Eagle Watch Protection Services: Who We Are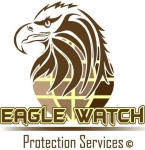 Eagle Watch Protection Services is an elite team of Israeli- trained Executive Protection Specialist and Private Investigators based in Florida. We specialize in providing services for Executives, Celebrities, and other highly visible personnel. We are a professional and dedicated security management team capable of providing services throughout the United States and globally.
Eagle Watch Protection Services is a Licensed and Insured Agency capable of providing discreet service. Armed or unarmed services are available hourly, daily, weekly, and monthly. Contract rates are also available. Feel free to contact us for information on services that can be provided.
Executive Protection Professionals: What We Do
While all Agents are in top physical condition, shielding clients from threats is about brains not brawn. The concerns facing a client can vary widely from threats upon one's life to corporate security. Eagle Watch Protection Services has the ability to handle all these issues.
We Work Worldwide!
Follow Us on Facebook
Consulting and Training Professionals
Eagle Watch Protection Services utilizes the Israeli's International Security Academy training, which is considered the best in the world. Why are they considered the best?
Private Investigations: What Are They?

In a world of uncertainty that is plagued with fraud, crime, and legal dangers, Eagle Watch Protection Services can minimize that risk and stress.